news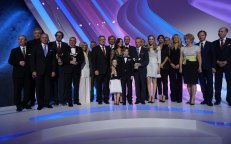 2015-04-27
And the winner in the "Success" category of Jan Wejchert Award is Mr. Jaroslaw Jozefowicz
Ladies and Gentlemen,
We are very pleased to announce that on 23th of April during the award ceremony of Jan Wejchert Polish Business Roundtable Award Mr. Jarosław Józefowicz was named a winner in "Success" category.
The prize awarded by the Jan Wejchert Polish Business Roundtable is an unique initiative, which in 2015 for the fourth time awarded those who which particularly stand out in the Polish business and social activity.

"... I'm proud and happy that today in front all of you I represent crew of TZMO. It is a group of people who create our business not only in Poland but also in 17 countries worldwide. I'm happy. Thank you very much - said Jarosław Józefowicz while accepting the Award.
» back to main page