news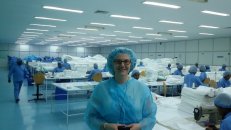 2015-04-02
Polish companies target Asia's third largest economy
Trade volume between India and Poland has been growing steadily and currently stands at USD 2 billion
As Danuta Isler reports, in comparison, Poland's trade volume with China amounts to USD 20 billion and efforts are being made to reach similar level with India.

Many Polish companies are interested in bilateral cooperation in the renewable energy sector as well as IT and textile industry.

But not only - among those which have been present in India since 2004 is Bella Premier Happy Hygiene Care - owned by Torun-based TZMO - which with less than 20 percent of the country's female population using female hygiene products - saw an opportunity to bring European hygiene standards to the local market.

They have a factory in Tamil Nadu, have been present in Mumbai for the last six months and are planning to take their business to the north of the country. So, what are the challenges to their operations on that market?
Click here to listen Audio Clip
» back to main page